1:1
Coaching
Unlock your potential and live the life you really want
Sometimes in life and work we become stuck by self limiting beliefs. The perceived barriers in front of us can feel overwhelming and insurmountable. This is where 1:1 coaching can help, offering you the opportunity to fully explore your options and have creative conversations with purpose.
You will be:
Stretched in a reassuring and non judgemental way
Empowered to raise your game and build self-confidence
Able to recognise the things that are holding you back and deal with them constructively
Encouraged and challenged to be your genuine self in a safe and trusting environment
Setting your own inspirational goals and be fully supported to achieve them
Executive
Coaching
Unlock potential to maximise performance
Companies and the people who work in them are constantly facing new (and old) challenges, many of which are testing and sometimes exhausting. Scenarios vary widely but there might be an executive who is brilliant technically and now needs support to manage a team; a newly promoted manager who needs more confidence to communicate effectively at senior levels; a team member who needs to manage stress and time…there is quite a list.
Coaching will:
Focus on strengths, practical solutions and future success
Provide opportunities to explore new thinking, discover potential and move forward positively
Enable sustainable change resulting in high levels of performance
Accelerate the development of potential leaders
Inspire high performing execs to reach higher and achieve more
Outplacement
Services
Unlock the potential to move forward positively
Being made redundant can be both scary and stressful (and much more besides). Assisting employees through this often unwelcome change provides them with much needed help to manage the transition smoothly. Offering outplacement services also reflects well on you as an organisation, demonstrating that you take the wellbeing of your employees seriously.
Our offering includes:
1:1 coaching
Interactive group workshops
Assistance in preparing a winning CV
Interview techniques and practice
Help and guidance with job applications
Expat
Coaching
Unlock your potential for your best global life
Expat life can be glamorous, fun and exciting with plenty of perks thrown in for good measure. It can also be lonely, difficult and alienating – no longer part of the head office team and often immediately confronted with tough situations. This is where remote coaching support can really make a difference.
We can help by:
Providing a confidential sounding board
1:1 coaching via Zoom, Skype or telephone
Helping to build confidence and resilience
Empowering you to step out of your comfort zone
Enabling you to exceed your expectations and thrive
How We Do It
Step by step we will encourage, inspire and help you to reach your goals. We will ask powerful questions and dare you to think differently. You will have ownership of your coaching sessions and we will be there to motivate and act as your guide. We will never judge and never say "you should".
So how does it work? We:
Offer an initial free consultation where we can find out more about each other and explore whether coaching is right for you
Connect with you for about an hour, approximately every 4 weeks over a six month period. This can be done face to face, via Skype, Zoom or telephone – whichever is most practical and suits you best
Check and review in every session to make sure you are making the progress you would like
Help you to make sustainable change so that you can continue to move forward without our guidance
Meet Us
Meet Jill
Working as an international Executive Search Partner with companies ranging from hi-tech start-ups through to major international blue chip organisations, Jill has gained deep insight in to the many issues facing companies and individuals today. Jill's history of forging longstanding alliances with clients and candidates, where trust and confidentiality were fundamental to all she did, led to a natural progression to coaching and this has been backed up with a formal ICF qualification.
Coaching informally has been at the heart of all I have done throughout my career. Working with middle to senior level managers to fulfil their career potential has been a privilege and working with companies all over the world has exciting and eye opening – who knew that people pro-actively wanted to work in war zones? Headhunting can be tough but working with people to truly understand their needs and then deliver results that tick all the boxes for client and candidate alike is truly satisfying.
So, great career, why change you may ask? Because sometimes we come to a crossroads and we have to dig deep and ask ourselves some serious questions. I knew my strength was in motivating and encouraging people to stretch themselves and I am widely known as a 'good listener' (bit of a cliché that one) – coaching was staring me in the face but I needed the courage to change. Transition is never easy but making the decision to train as an ICF coach has been life changing – I have found 'my thing' and love working with people to truly maximise their potential.
Meet Sandra
Working in Operations & Finance for a leading global investment bank gave Sandra in-depth experience of the challenges facing international businesses today. Managing multi-cultural teams and projects in London, Hong Kong and New York was demanding and exciting providing an opportunity to work with many different people in a fast paced ever changing environment. Learning and Development of individuals and teams was central to Sandra's career which made training to become an accredited ICF Coach an obvious next step.
I loved my career in the international banking world and the opportunity to live and work in exciting cities was exhilarating. Working with many different nationalities to achieve a common goal could be daunting but by being sensitive to the cultural diversity at play, my motivating and encouraging style made things possible. My roles in finance and operations required sound technical skills but it was the 'people' side of the business which gave me most satisfaction and played to my strengths.
Raising three very small children in rural ex-pat Africa (yes you heard that right) was my next challenge followed by relocation back to the UK – I am honestly not sure which was trickiest. Adjusting to change on any level can be difficult as well as exciting but grabbing life with both hands is my mantra and I have an innate ability to see the positive in everything. Knowing I wanted to resume my career and recognising that I am most definitely a 'people person', coaching was the obvious next step. Coaching is about investing in you and I have a passion for finding the best in people.
Testimonials
Having had a career break to raise my children, I wanted a change of direction. I retrained as an illustrator but was lacking confidence to build my business. In just 6 months working with Jill at Forward Steps Coaching I had produced my first illustrated collection of prints and cards, built a website and set up an online shop. I now have the skills to continue to move forward and to grow my business. I am so much happier and confident in other areas of my life too. I could not recommend Jill highly enough, her help has been truly life changing.
Linda Fox – Illustrator
It would be no exaggeration to say that working with Sandra at Forward Steps Coaching has completely changed my life and brought remarkable, measurable improvements to my business. I have thoroughly enjoyed the thoughtful, knowledgeable coaching sessions, which helped me to put in place several key changes – opening up new business opportunities and making my working day far more productive and enjoyable. I have also recommended the company to several others, who are all equally impressed.
Debbie Jeffery – Property Journalist
View All

My previous experiences of being coached are worlds apart from what I get from time with Sandra. She helps me step back and look at the whole issue, unblocking my thinking and showing me how I don't have to revert to past habits. Sandra challenges me but with care as well as candour. I feel I have seen real results in helping me set direction for myself and have more confidence in my decisions. I would recommend Sandra wholeheartedly. Jane Farley – L&D professional

Working with Jill over the last few months has been transformational for me. I have left our sessions feeling energised, motivated and optimistic about the changes I wish to make. Jill has a lovely manner, she is really easy to talk to and very insightful. She always listens attentively and challenges me where I've definitely needed it. I would highly recommend Jill as a coach. Lauren Wilson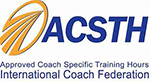 The International Coach Federation (ICF) global survey showed that 82.7% of individuals who have experienced professional coaching report being "very satisfied" with their coaching experience and 96.2% said they would repeat it given the opportunity.
Contact Us
Forward Steps Coaching is able to help you or your organisation in many different ways. If you would like an initial free 20 minute consultation or if you have any particular questions about our services please get in touch – we would love to hear from you.